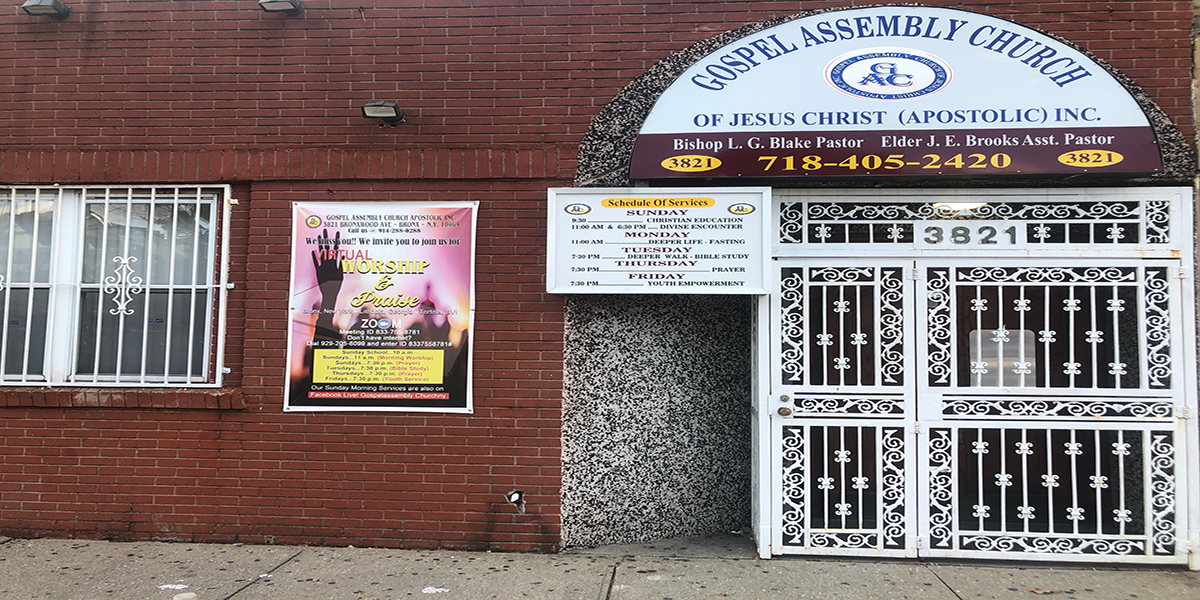 Gospel Assembly Church Bronx NY
Gospel Assembly Church Bronx NY
"Neither is there salvation in any other: for there is none other name under heaven given among men, whereby we must be saved."
– Acts 4:12
MEET OUR BISHOP
Bishop Lloyd G. Blake was born in St. Elizabeth, Jamaica. He accepted Christ at the young age of 14. After graduating from Mico Teachers College, he taught for a short time at Christian High School, Manchester before migrating to the United States where he married his friend, Carrol Miller.
WHO ARE WE?
The Gospel Assembly Church of Jesus Christ (Apostolic) Inc., was launched on June of 1988 with eight passionate souls. From its humble beginning in a small upper room on 212St and White Plains Rd in the Bronx, the church has grown to over 300 saints in three locations, New York ,Georgia and the British Virgin Island.
WHAT DO WE BELIEVE
We believe . . . in the ONE True and Living God. Maker of all creation; the all-knowing, all-powerful, everywhere-present, eternal Father; the source of all goodness, truth, and love; who has manifested himself in His Son, Jesus Christ, for the purposes of redemption and as the Holy Ghost for the purpose of intervening in the lives of people.
(Deuteronomy 6:4 – 11; 2 Corinthians 13:14; 1 Timothy 1:17; 3:16; 6:13 – 16)
MINISTRIES
SUNDAY SCHOOL MINISTRY A strong believer of commitment and dedication to the cause of Christ. As the Director of Christian Educator, I am an advocate for the spiritual development of adults and children, as the Word of God is imparted to them. My passion for the education of children escalates as I observe them
growing in The Word.
SERVICES
SUNDAY:
8:30am – Sunday School
10:30am – 12:00pm 1st Service
1:00pm – 2:30pm 2nd
7:30pm Evangelistic Service
MONDAY:
11:00am – Fasting Service
TUESDAY:
WEDNESDAY:
8:00pm Youth Prayer Meeting
THURSDAY:
FRIDAY: